This festive vegan tea ring is a vegan take on a holiday favourite: a Swedish tea ring. Filled with fruits, nuts and chai spices, it's perfect for your Christmas breakfast this year.
You guys. I just found my Christmas morning breakfast. No. Scratch that. This festive vegan tea ring is so good I'll be having it for breakfast everyday for the foreseeable future. It's just that after the holidays it'll go back to being a plain old vegan Swedish tea ring and not a festive one.
Except there's nothing 'plain' or 'old' about this beautiful ring of deliciousness.
This is actually my first time baking with yeast and it wasn't as hard as I thought it would be. It was definitely nerve wracking since I was convinced I would kill the yeast and the dough wouldn't rise. But once I got over that fear it was pretty much smooth sailing.
I'm not gonna lie, this tea ring takes a little bit of work and time. The recipe calls for a handful of ingredients each, for the dough and filling and the method is fairly simple. But since there's yeast involved so you have to knead the dough, then give it time to rest and rise before rolling it out.
Then there's the whole cutting the dough and forming the tea ring part of the equation. It took a bit of finessing and a few choice words but it was so worth it.
Cuz isn't this just the coolest thing ever?
And to think, if it wasn't for December's Recipe Redux I probably never would have given it a try. This month we were challenged to pick a cookbook and 'redux' the recipe on any page whose number was a combination of 2016.
I grabbed my Napirima Girls' Cookbook – a.k.a. the cookbook every Trini not living in Trinidad owns – and started looking for inspiration. Since I won't be going home for the holidays this year, I was hoping to find something to add to my Trini Christmas in Canada menu. But when I stumbled across the Swedish tea ring recipe on page 206 I couldn't not try it.
Never mind that I'd never  even had one before or that it definitely wasn't a Trini dish or that I've been irrationally terrified of using yeast for years and years. I read through that recipe and knew a vegan tea ring was on the horizon.
I mean, wouldn't you want this holiday inspired, fruit filled, fancy looking sweet roll on your table for Christmas brunch?
Cinnamon rolls are so last year, friends.
Festive Vegan Tea Ring (Vegan Swedish Tea Ring)
This festive vegan tea ring is a vegan twist on a Christmas breakfast favourite.
Author:
GiselleR @ ExSloth.com
Serves:
1 tea ring, serves 6 - 8
Ingredients
For the dough:
½ tbsp ground flax + 1½ tbsp water
½ cup almond milk
⅜ cup maple syrup (6 tbsp)
a pinch of salt
3 tbsp vegan butter
2¼ cup unbleached all purpose spelt flour*
½ tbsp instant yeast
For the filling:
2 tbsp brown sugar*
½ tsp chai spice or cinnamon
⅓ cup chopped dried fruit and nuts*
½ tbsp mixed peel
½ tbsp vegan butter
Optional:
glazed cherries for decorating
almond milk for brushing the tea ring
For the glaze:
¼ cup icing sugar
½ tbsp almond milk
½ tsp vanilla extract
(optional) ¼ tsp almond extract
Instructions
Make the dough:
Whisk together the ground flax and water in a small bowl and set aside
Heat the milk in a small saucepan or in the microwave until it is warm but not hot, about 82C/180F
Pour the milk into a large bowl and add in the maple syrup, salt and vegan butter
Stir until the butter melts and the mixture is lukewarm, about 52C/125F or whatever temp your yeast calls for
Whisk together the flour and yeast in another bowl and add 1½ cups of the flour mixture to the liquid along with the flax, mixing until just combined, then stir in the remaining flour
Turn the dough out onto a well floured surface and knead for 8 - 10 minutes until smooth and elastic. Be careful not to add too much flour to the dough as this can make the dough tough and hard to work with
Place the dough into a greased bowl and lightly grease the top then cover with a cloth and let rise until doubled, about 1 - 2 hours depending on the temperature. I put mine in the oven (while it was off!) since it's the warmest place in my kitchen right now. The microwave may be another good option if you're also in a colder climate
Make the filling:
While the dough is resting, combine the sugar and spices in a small bowl
Transfer half that mixture to another bowl along with the fruit, nuts and mixed peel
Form the tea ring:
Punch down the risen dough and roll into a rectangle about 7"x12", or whatever size you prefer
Brush the rolled out dough with vegan butter and sprinkle with the other half of the sugar and spice mixture
Top with fruit and nut mixture, leaving about ½ an inch free along the edges
Roll up the dough like you would a cinnamon roll, starting at the longer side
Seal the edges firmly by pressing it them into the roll with your fingertips
Snip off the ends where there wasn't any filling and bring them together to form a ring. Be sure to seal the end well
Using a scissors, cut ¾ way into the dough at 1" intervals and turn each slice carefully on its side like a fan (see photo above)
Cover and let rise again until doubled, about 30 - 45 mins
Bake the tea ring:
Preheat the oven to 375F
Brush the dough with almond milk and decorate with cherries if using. I pressed some into the exposed fan part of the ring but you can also sprinkle them on the ring itself if desired
Bake for 15 - 25 minutes or until golden brown. You don't want this to burn so start watching it at the 15 minute mark and cover with foil for last 5 - 10 minutes if you think it's browning too quickly
Allow to cool partially before drizzling with icing sugar glaze
Notes
* Can sub for all purpose white flour
* I used a mix of slivered almonds, black currants and raisins
Pressed for time? Try these no yeast chai sweet rolls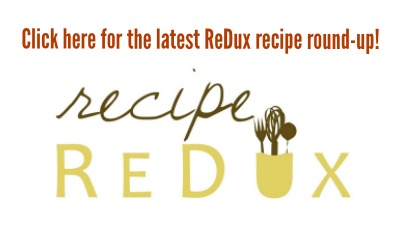 If you enjoyed this post, you'll love these