These crispy jerk sweet potato tacos are hearty, spicy, flavourful and filled with veggies. They make a great vegan lunch or dinner.
Over the weekend we were hit with unseasonably warm weather here in Canada. I'm talking 15+ C or 59+ F, if you're into that kind of thing.
Obviously, I opted to spend the majority of my long weekend outdoors celebrating the uncommonly good weather. But the few hours I did spend at home were used to make some summer inspired eats and drinks.
And by that I mean tacos and margaritas.
The margs were gone the second I made them so I don't have any photos – or a recipe really – to share. However, I did manage to take pics of these crispy jerk sweet potato tacos before I devoured them.
The idea for these jerk sweet potato tacos has actually been kicking around in my mind for a few months now. So I'm really glad the weather and this month's Recipe Redux theme aligned perfectly to encourage me make them a reality.
The recipe is fairly simple and only takes about 40 – 50 minutes. I made my jerk marinade from scratch this time but I've used the store bought stuff in the past and it was just as good.
After making the marinade you have a couple options. First, you can precook and marinate the sweet potato for a couple hours, before breading and baking. The jerk flavour shines through a bit more  but it does add a couple hours to the prep time.
Alternatively, you can dredge and bread the uncooked sweet potato and bake right way. The sweet potato isn't as intensely jerk flavoured but this method is much quicker and yields slightly crispier pieces.
Either way, these crispy jerk sweet potato tacos are hearty, spicy, flavourful and filled with lots of plant-based goodness. I topped mine with kale, avocado, this mango pineapple salsa and an easy cilantro yogurt drizzle.
Next time I plan to go for coleslaw and this cilantro-line avo dressing, which I think will go amazing together. But since I know tacos are intensely personal things, feel free to switch up your toppings as you see fit.
If you make these crispy sweet potato tacos, I'd love to hear what you think. Leave a comment and rate the recipe or take a pic and tag it @ExSloth on Instagram!
More Caribbean-inspired recipes:
Crispy Jerk Sweet Potato Tacos
These crispy jerk sweet potato tacos are hearty, spicy, flavourful and filled with veggies.
Author:
GiselleR @ ExSloth.com
Recipe type:
Lunch, Dinner
Ingredients
For the sweet potato:
2 medium sweet potatoes, peeled and cubed
⅓ cup flour*
¾ cup almond milk*
¼ - ⅓ cup jerk marinade, more or less to taste
1 cup breadcrumbs
1 tsp dried thyme
½ tsp chili powder
¼ tsp allspice
salt and pepper to taste
For the jerk marinade:**
3 green onions
1 tbsp fresh thyme*
2 tbsp cilantro
2 shallots or ½ an onion
2 cloves garlic
1 tsp grated ginger
½ tbsp coconut or brown sugar
1½ tsp ground allspice
½ tsp cinnamon
½ tsp nutmeg
salt and pepper to taste
1 - 2 scotch bonnet peppers, more or less to taste
¼ cup soy sauce
2 tbsp vinegar
1 tbsp olive oil
juice of ½ an orange
For the cilantro yogurt drizzle:
¼ cup unsweetened vegan yogurt
¼ cup cilantro
1 tbsp milk
juice of ½ a lime
1 tsp olive oil
¼ tsp garlic powder
salt and pepper to taste
optional: scotch bonnet pepper or pepper sauce to taste
For the tacos
flour or corn tortillas
veggies of choice - I used kale, tomatoes, cilantro, mango, pineapple and avocado
Instructions
For the marinade:
Add all ingredients to a blender and process until smooth. Taste and adjust seasonings as necessary. You will have extra.
For the cilantro yogurt drizzle:
Add all ingredients to a blender and process until smooth. Taste and adjust seasonings as necessary. Refrigerate until ready to use
If marinating sweet potato:
Cook sweet potato until tender by boiling, steaming, baking or microwaving
Add sweet potato and jerk marinade to a bowl and mix to combine. Set aside to marinate for 1 - 2 hours
Once ready to cook, preheat oven to 425F and mix together breadcrumbs and spices in a bowl
Working in batches, coat 3 - 4 marinated sweet potato pieces in breadcrumbs and transfer to a parchment paper lined baking sheet. Continue until all sweet potato is coated
Bake until crispy, 15 - 20 minutes, turning or tossing once halfway through to so they brown evenly
If baking sweet potato without marinating:
Preheat oven to 400F
Add flour to one bowl, almond milk and jerk marinade to another and breadcrumbs and spices to a third
Working in batches, coat 3 - 4 sweet potato cubes in flour, submerge in milk/marinade mixture then coat in breadcrumbs
Transfer to a parchment paper lined baking sheet and continue until all sweet potato is coated
Bake until sweet potato is tender, 20 - 25 minutes, turning once halfway through then increase temp to 425F and bake for 5 - 10 more minutes or until sweet potato is browned and crispy
Assemble the tacos:
Warm tortillas in oven or in a dry skillet
Top with veggies, sweet potato and cilantro yogurt drizzle and serve immediately
Sweet potato is best when served immediately but will last in the fridge for 2 - 3 days. Reheat in oven or toaster oven
Notes
*you won't need the milk or flour if you plan to marinate cooked sweet potato before baking
*can sub fresh thyme for ½ tbsp dried thyme
*can use store bought jerk marinade if you prefer but you may need to thin it out a bit or use less depending on how spicy it is
Want more tacos? Try these for breakfast: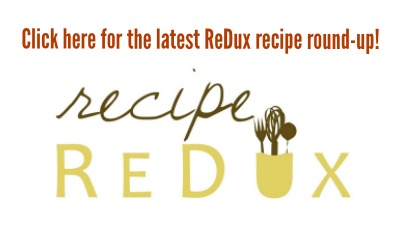 If you enjoyed this post, you'll love these