Hey Friends! How's it goin?
Today I've got a bit of a switch for ya. Kristin – of Exploring Domesticity – and I have swapped blogs for the day as part of the I'm Fit Possible blog swap. Kristin's all about juggling family, health and fitness so you definitely wanna hear read what she's got to say about quick 10 minute workouts. And don't forget to check out my post on group exercise classes over at her blog!
Enjoy 😀
————————————————————
Hi All!
I'm Kristin and I am so thrilled to be participating in the I'm Fit Possible blog swap with Giselle! I love her blog and am thrilled to share a little bit with all of you, while she shares a post over at my blog, Exploring Domesticity.
Exploring Domesticity started as a place to share my experiences learning all those domestic skills I never quite got the hang of when I was busy completing my masters degree in 2008, buying my first house in 2009, getting married in 2010, having my little guy in 2011, and having my little lady in 2012. By 2013, I was thrown into the roll of Stay-at-Home-Momma and, while I still focus on all things thrifty, crafty, and easy, my passion to create healthy habits for my family has emerged and taken the forefront over everything else. With kiddos who ask for broccoli over chicken nuggets, to wear their "running pants", and do squats, I think we're doing alright! It's still a work in progress, and I invite you to stop by and check it out!
As you may have been able to gather, things can be quite busy at our house. With a 1-year-old, 2-year-old, a 10-year-old step-daughter (oh yeah, did I mention we got full custody of her when my son turned one and I was pregnant with my second?!), a husband that works loooong hours, and attempting to keep up with a blog and start a new project, finding time to workout can be incredibly difficult.
I've lost 50lbs since my little girl was born, but I still have nearly 50 to go. I also will be in a strapless dress for a wedding in May – yikes! That all means that I have to do what I can, when I can.
I used to think I had to carve out a long block of time – ideally an hour, but at the bare minimum 30 minutes. I also knew by the time I got everything ready to go – finished things up with the house, got dressed in my gear, and set up the space – the whole process would take up an entire nap time. Those are precious moments to catch up on other things too – I hate to lose them!
So, you can guess how often I actually got a workout in… If I missed that opportunity, or the kiddos woke up early the workout didn't happen at all.
Then, my mindset changed. I realized that every little bit I could do helps! If I could ruin my efforts quickly with a candy bar, I could just as easily burn a few calories whenever I could find the time. So simple, but such an Aha Moment for me!
My new mindset and motto was born!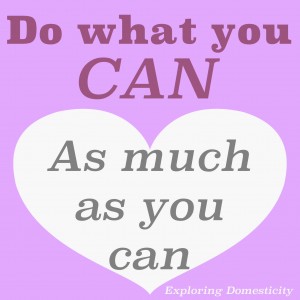 I had my Aha Moment three weeks ago when my Lose Your Booty dietbet started. I've eaten healthier, but haven't gone crazy limiting calories or anything, and the only other change I've made is trying to get a workout in whenever I have a free moment. In three weeks, I have lost 8 pounds! I'm converted! Below are my top 5 reasons you should consider 10 minute workouts.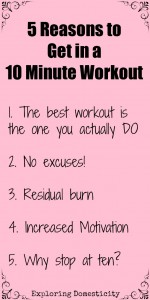 Top 5 Reasons To Get In a 10 Minute Workout
1. The best workout is the one you actually DO!
Something is always better than nothing. When I tried to carve out a large amount of time and life got in the way and kept pushing it back, it often didn't happen. Now that I focus mainly on shorter workouts I get multiple into a day. I find that my days with no moments of intense activity are few and far between these days.
2. No excuses!
Initiating the workout is half the battle. If you start looking at your workouts as an impulsive way to spend 10 minutes, you will never talk yourself out of it. I no longer feel the pressure to make sure I am perfectly ready to begin a workout. I jump up in whatever I'm wearing, clear a little bit of space, and get to work. I get my heart rate up and start to break a sweat, but it's over before I know it and I move on to something else.
3. Residual Burn.
When you workout hard enough to get your heart rate up, your body continues to burn calories for a period of time following the workout. A couple short, intense workouts may actually give you even more time that your body is actively metabolizing fat. I love that!
4. Increased Motivation.
Getting in a couple short workouts will help you think about other healthy changes more consistently. You're more likely to drink more water and less likely to eat poorly after you've just burned those calories. Who wants to burn a quick 300 cals just to have it ruined with some chips or a candy bar?
5. Why stop at ten?
Exercise feels good. It may be hard to motivate yourself to start, but it feels so good you might find yourself wanting to keep going. Remember, initiating is the hardest part, but once you've already started to break a sweat you may feel great and want to continue. A "quick" workout can turn into a long workout before you know it! Have I convinced you? Are you already a fan of the short workout or do you carve out a large block of time to get a workout in and stick to it? I've become such a fan, I recently created a Pinterest board titled "Fitness – no excuses." You are more than welcome to stop by and check it out if you could use some inspiration. Also, since that board is newer, you can find many more on my Pre-Babies Pinterest board.
If you enjoyed this post, you'll love these